about us
Learn more about our history, mission, vision, and core values. Meet our leadership team too!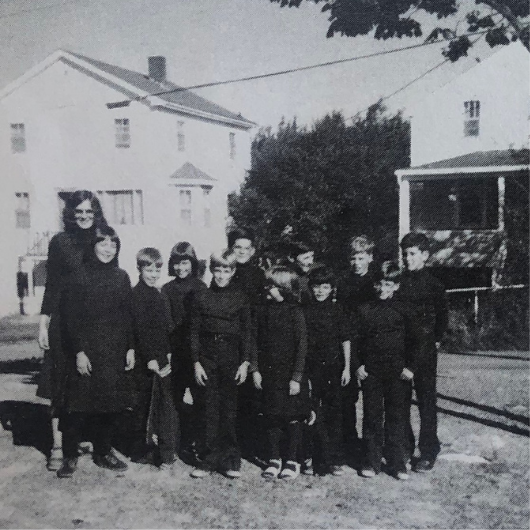 history
HCA was first established in 1975 by Bible Baptist Church and gained independence in 1988 and registered for charitable status in 1989. By 2001, HCA had opened a preschool at the Timberlea campus, along with our Armdale campus, and begun operating an academic Christian education program from elementary to high school.
Today, we have over 230 students from pre-primary to grade 12 across two campuses with over 50 loving and supportive Christian teachers and staff dedicated to the mission and vision of furthering God's kingdom through discipleship driven education.
mission
We equip students to develop a love for learning and an unshakeable faith. We glorify Jesus by creating a community that positively impacts others through our service.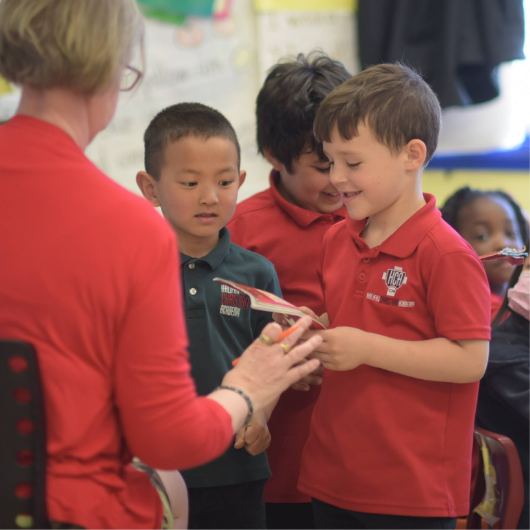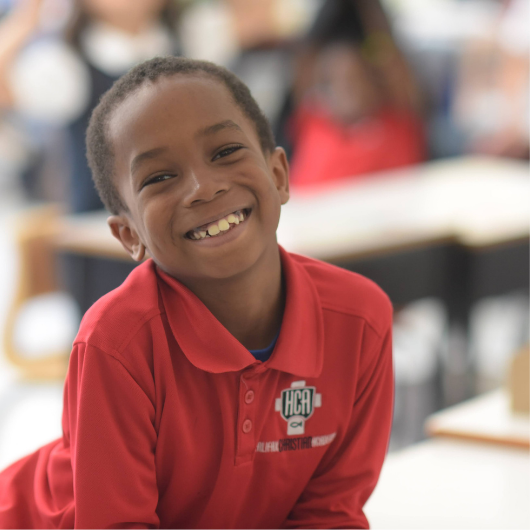 vision
Transforming lives through dynamic Christ-centered education and discipleship.
It is our vision to see each and every student transformed by the love of Christ demonstrated through their education and mentored in discipleship to form a dynamic relationship with their Creator.
core values
Our core values are: love, excellence, integrity, balance, accountability, communication, diligence and Biblical truth.
WANT TO LEARN MORE ABOUT DISCIPLESHIP DRIVEN EDUCATION?
Book a tour to learn firsthand!
TOUR
Prospective parents agree that coming in for a tour helped them in their decision to enroll at HCA.
Text can only convey so much about what makes HCA unique on a screen. Come experience our discipleship culture and meet our team and teachers on a personalized tour of either of our campuses.
The main reason why we send our kids to HCA is the love and care that the teachers give to our kids. Thank you soooooo much for being Christ to these little angels. I want to thank all the teachers from the bottom of my heart.
We are so thrilled to have [Mrs. Lock] at the Timberlea campus! She is absolutely amazing with the children!!! Thank you for being soo wonderful and patient with my daughter.
I've never seen a school with teachers like HCA! They educate my son but so much more, they love him, invest in him, disciple him, look out for him, and are examples to him. The teaching staff is truly the secret sauce of HCA!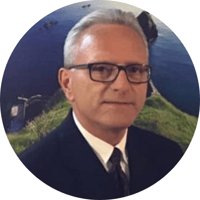 Dr. Aubrey J. Penney
Principal
Aubrey came to Halifax Christian Academy in September of 2019 after moving from Kingston, Ontario. His experience includes twenty-five plus years of school leadership and almost ten years of corporate ownership. He began his career in education with the Pentecostal Assemblies Board of Education and moved to Kingston, Ontario to continue in Christian education after public funding for the Pentecostal school system was discontinued in Newfoundland and Labrador.
As a graduate from Memorial University, his education includes a B.A. and B. Ed. in Junior/Senior High School and a Masters in Educational Administration with a thesis studying multi-grade teaching and learning. He is also a graduate from the University of Toronto with a Doctorate in Educational Administration with his dissertation focusing on teaching and learning in a multi-age classroom.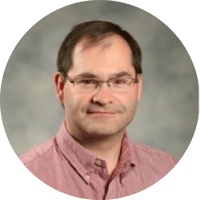 Mr. Stephen Michels
Assistant Principal
Stephen transitioned into the role of assistant principal at Halifax Christian Academy after serving as the middle school head teacher. His experience includes over a decade of teaching and leading in Christian schools and over sixteen years of pastoral ministry. He began his career in Christian education here at HCA in 1995 and served in many teaching and leadership roles before being called into pastoral ministry in 2005. He never lost his connection with HCA, serving as a volunteer chapel speaker, substitute teacher, and board member. The Lord opened the door for his return to teaching in 2019.
Stephen earned a B.A. in English Literature and Language, with additional studies in history and psychology, awarded jointly by Dalhousie University and the University of King's College. He earned a B.Ed. from St. Francis Xavier University, and received teacher certification from the Province of Nova Scotia. He went on to complete an M.A. in Educational ministries with a focus on Christian Education at Providence Theological Seminary. He is also an ordained pastor with the Fellowship of Evangelical Baptist Churches in Canada where he holds the position as chaplain. With this endorsement, Stephen was accepted into the Royal Canadian Chaplain Service, a branch of the Canadian Armed Forces. He is enrolled in the Canadian Army Primary Reserves where he serves as a unit chaplain.
board of directors
Our board is made up of a diverse set of passionate individuals for Christian education who were nominated by and voted in by members of HCA.
CHAIR
Keith K.
Keith moved to Halifax in 2018 along with his wife, Helen, and his two daughters who both attend HCA. Keith graduated from the University of British Columbia with a BASc in Electrical Engineering. He is a Software Developer working as an Senior Enterprise Tools Technologist for Change Healthcare.
Keith has served in Christian Youth Ministry for 17 years and has experience in discipleship and mentorship, ministering to those from middle school age to university and career. He has been a parent volunteer at HCA since 2019, assisting teachers, staff and leadership on process improvement and technology training for the HCA@Home program.
SECRETARY
Modele A.
Modele Oluwatosin Akintokun is a Project Management Professional with a Bachelor's degree in Electrical Engineering. She is trained in Business Analysis and has been a member of the Project Management Institute (U.S.) since 2016 and served as Member Services Coordinator for the Nova Scotia chapter in 2018. She is currently working as a Business Process Optimization Consultant with ADP Canada.

Modele has served in church leadership in various capacities over the last 13 years including outreach planning and providing worship direction for her local church. Within HCA, she has served as Prayer Captain for a couple of HCA fundraising endeavors and has also volunteered with both Dazzle & Dine and Grandparents' Tea planning initiatives.
BOARD TREASURER
Martin G.
Martin Geertsema is the oldest of four brothers, husband to an amazing wife and father of three beautiful daughters. In his early working years he was involved in construction and electrical work before having a very busy painting company. Martin was also a flight instructor and private charter pilot for about 8 years.
Martin and his wife, Emily, moved to Nova Scotia in 2006 when he started flying with an Air Canada affiliated company. He then continued to grow his property management company and started a renovations business. His personal goal is to create enough passive income to replace his working income so that he can both support his family and have free time to serve in ministry.
SPIRITUAL COMMITTEE CHAIR
Chad M.
Chad and Lynda have been married for sixteen years and have three children who all attend HCA. Chad was born in Nova Scotia and his family is from Cape Breton Island. He spent many years in Toronto attending Tyndale University & Seminary and met Lynda during this time.
God led Chad and Lynda to Vancouver, BC where Chad became an ambulance paramedic and also began his pastoral ministry. Chad helped plant Westside Church in the heart of Vancouver where he spent close to eight years in an executive pastoral role. In 2015, the MacDonald family moved back home to Halifax where Chad took a regional church planting role with the C2C Network. In 2019, Chad accepted a similar role with the Send Network as the regional catalyst for church planting in Atlantic Canada for the Canadian National Baptist Association denomination.
MEMBER-AT-LARGE
Onyi O.
Onyi (Victoria) is a graduate of Economics and has a Masters Degree in Human Resources Management and Employee Relations. She holds several Canadian certifications as both a strategic and people-oriented HR and Total Rewards professional.
Onyi loves working with both children and adults to bring out the best in them, and strives to be the best at whatever she finds herself doing, as she believes that whatever she does is for the Lord and for a greater assignment ahead.
MEMBER-AT-LARGE
Frank S.
Frank Sing is a deacon at Halifax Chinese Christian Church, faithfully serving the community for over 20 years. His primary responsibilities have been with the youth/college & career and English Service program. His four children attended HCA and his wife, MeiMei, worked at the school as a teaching assistant and math enrichment teacher in the past.
Professionally, Frank is a veteran in the Nutrition and Health industry. A biochemist and food scientist by training, Frank is a 30 year veteran of the Omega-3 industry and a founding member of Ocean Nutrition Canada.
Frank returned to Asia in 2008 as the CEO of MTS Fiber Technology where he led the development of a high fiber/low-calorie pasta. He then moved into private equity developing a green technology portfolio with a special focus on algal & renewable-related technologies. Frank eventually returned to Canada and started Ultina Health.